Theo Walcott sees a great partnership ahead with Seamus Coleman at Everton
Updated: February 2, 2018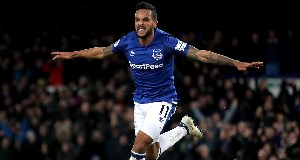 Everton winger Theo Walcott hopes his fledgling partnership with Seamus Coleman can lead to bigger and better things.
Walcott scored his first goals for the club with two in the first half of their 2-1 win over Leicester, which ended a run of seven matches without victory.
But it was his link-up play with Coleman, making his first appearance in 319 days after a double fracture of his leg on international duty last March, which really caught the eye.
"Having him around is obviously fantastic. You can just see his work-rate up and down that right-hand side," said Walcott.
"He just shows he is at a completely different level when he comes back like that.
"He was up and down that wing, helping me out, talking, and that is what it is all about.
"Seamus is a completely new animal and I really don't know how he gets that energy.
"I still think we need to let him take his time and ease his way back in but he is as fit-as-you-like and I am sure he will be playing every week."
Walcott opened his account in only his second appearance following a £20million move from Arsenal earlier this month, having impressed in the second half of his debut against West Brom.
It has helped get his new career up and running quickly and he hopes to push on from here.
"When I came to Everton I said I wanted to be part of something which I felt can move to the next level and pushing more so next season but have a good end to this season," he added.
"For me personally to score my first goals at Goodison Park was fantastic and to get the win was the most important thing because it was much needed.
"We had to dig deep in wet, windy and cold conditions and the guys did really well.
"The work-rate has always been there, that is what I am about. I'm a so-called old-school winger, up and down and working hard for the team but that link-up play with Seamus was fantastic to see."
Manager Sam Allardyce was delighted with Coleman's impressive return, having played just over an hour for the under-23s last week.
"For him to finish 90 minutes and, in the 92nd minute, run 80 yards with the ball was outstanding for me and an example to every player at this football club," said the Toffees boss.
On the link-up down the right he added: "There is a new partnership flourishing, which has come together for the first time.
"Nothing more to say about it other than quality and understanding.
"Seamus has played against Theo quite a lot and there was that instant combination of the support for each other both ways."