Tottenham confirm home matches in 2017/2018 will be played at Wembley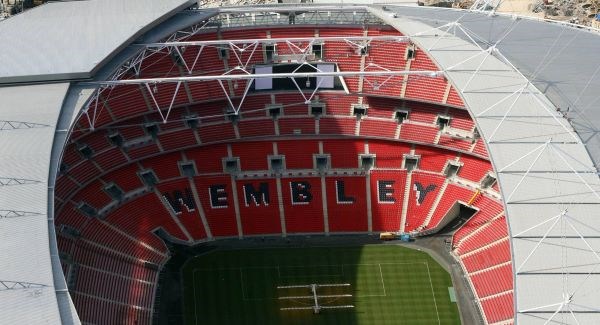 Tottenham will play all their home games at Wembley next season, the club have announced.
Spurs will move into the national stadium for the 2017-18 campaign while work on their new 61,000-seater ground is completed.
It means Sunday's Premier League match at home to Arsenal will be the last north London derby at White Hart Lane and Manchester United will be their final opponents there on May 14.
Tottenham, who have played at White Hart Lane since 1899, last month extended the deadline for a final decision on Wembley but triggered the option already agreed with the Football Association on Friday.
Press Association Sport reports the club were concerned building work would not be finished on time for the new stadium to open in August 2018, but Spurs have now given the switch the green light.
Chairman Daniel Levy said: "The Lane means a huge amount to each and every one of us and we needed to gain greater certainty on the delivery of the new stadium before we made the final decision to commence with the decommissioning of our iconic, historic home for some 118 years.
"We shall ensure that we give the Lane a fitting farewell when we play our last match here on May 14.
"Wembley will be our home for a season and then we shall return to what will be one of the best stadiums of its kind and the most unique in the world playing host to NFL games too – a stadium that will be key to our future growth and success.
"Both on and off the pitch this is an incredibly exciting time in the history of our club."
Tottenham have enjoyed a superb record at White Hart Lane this season but have struggled to replicate that form at Wembley.
The 4-2 defeat to Chelsea in the FA Cup semi-final last weekend meant Spurs have won only one of their last nine matches under the Wembley arch, including two losses out of three in this season's Champions League.
Manager Mauricio Pochettino has always remained positive about moving next season, however, and believes his team can make the stadium feel like home.
"When we competed at Wembley, the Champions League was a new competition and then in the Europa League we played with 10 men," Pochettino said last week.
"It's true, we struggled a bit to get good results there but we need to make Wembley our home and get that feeling.
"If we will move, and next week the club decide and all happens in the way we hope, next season we will move there and there's no excuses."
Tottenham also confirmed plans have been made for a 'Farewell Ceremony' to take place around the last game against Manchester United next month.
The club have invited fans to buy their seats and send in memories of White Hart Lane while a 'special edition crest' has been designed to commemorate the stadium's history.