'Embarrassment' in Scotland over failed pursuit of Michael O'Neill
Updated: January 23, 2018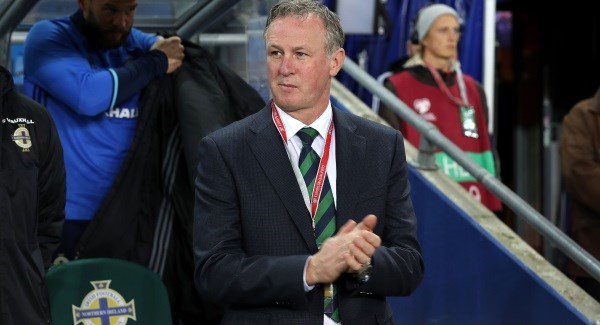 Former Scotland striker Charlie Nicholas has labelled the Scottish Football Association an "embarrassment" over its failed pursuit of Michael O'Neill.
The Northern Ireland manager has turned down the chance to become Scotland manager 102 days after Gordon Strachan was sacked and more than two months after the SFA first approached its Belfast counterpart.
Nicholas was scathing of the approach employed by chief executive Stewart Regan and board members such as Alan MacRae and Rod Petrie.
"The true embarrassment of the whole situation is not so much Scotland's, it's Stewart Regan's and the people on this committee," Nicholas told Sky Sports News HQ.
"We have Mr Petrie, who is going to become the next president after Alan MacRae. He's an accountant and they can't even get the financial deals over the table.
"The building is open, the doors are open and you can leave when you like."
The likes of Paul Lambert and David Moyes have secured Premier League jobs since the recruitment process began while Regan publicly ruled out SFA performance director Malky Mackay hours before he took interim charge of a friendly defeat by Holland in November.
Nicholas said: "I'm absolutely convinced that we had more than enough Scottish candidates.
"I look at Malky Mackay, who he (Regan) embarrassed before the last game, I look at Alex McLeish who did a damn good job in the role the last time.
"He actually embarrassed Malky Mackay before the last game at Aberdeen and I felt embarrassed the way he got rid of Gordon Strachan, who was a Scottish legend as a footballer. He treated him shamefully. I mean, a phone call to the man.
"It lacks class, it lacks knowledge of a professional level. These people are accountable for our embarrassment."
The Irish FA offered O'Neill an improved contract until 2024 after the SFA made its move and former Scotland midfielder Michael Stewart was unimpressed with the way the situation was handled at Hampden.
"The tactics have been a bit naive," Stewart told BBC Scotland. "They were so blatant in their pursuit of O'Neill that anyone who comes in next knows they are not the number one choice.
"It was quite obvious they wanted O'Neill but to let it drag on so long just made everything seem a bit contradictory.
"It strengthened the hand of O'Neill, who would probably have got a far better deal with Northern Ireland anyway after taking them to the Euros and almost to the World Cup."
Former Scotland coach Stuart McCall felt the SFA was always on to a loser.
"It doesn't surprise me to be honest," the Bradford boss told Sky Sports News. "I thought it would be hard for Michael to leave the country you are from, who you played for, who you manage, to go to another country. I couldn't see him doing it."
Strachan's former assistant, Mark McGhee, feels there are plenty of Scottish contenders, including his former Aberdeen team-mate Alex McLeish.
The Barnet manager told TalkSport: "I know how much Alex would love to do the job and I know how well qualified Alex is for the job given his experience in it already.
"I don't see any reason why he couldn't be seriously considered, he is ready and waiting, have boots will travel."