James wary of Curry, Thompson threat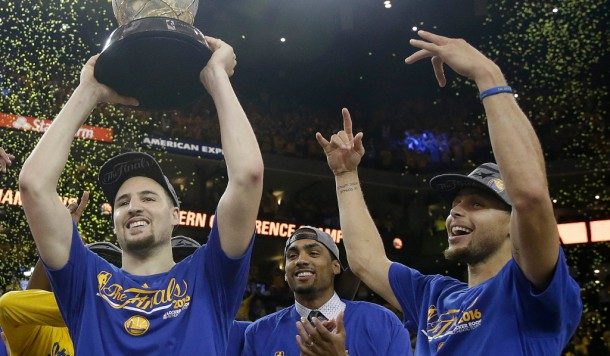 Cleveland Cavaliers talisman LeBron James has admitted that keeping the Golden State Warriors duo of Stephen Curry and Klay Thompson under wraps will be a lot easier said than done during the NBA Finals.
Curry averaged 27.9 points, 6.3 rebounds, 5.9 assists and 2.1 steals in the Warriors' intense Eastern Conference Finals series against the Oklahoma City Thunder, which the Warriors won 4-3. Thompson meanwhile also played a pivotal role in the Warriors' come-from-behind win as he averaged 24.7 points, 4.4 rebounds, 1.7 assists and 1.0 steals per game.
In addition, the fact that both players are averaging over 40 per cent from the field and from long range has James even more concerned.
Despite this, the Cavaliers superstar is confident that his side will come up with a gameplan to try and limit the impact Curry and Thompson have during the NBA Finals.
"They shoot the ball extremely well," James said. "Klay and Steph are probably the two greatest shooters that we've probably ever seen. Obviously in today's game they are. Some of the shots, there's nothing that you can do about it. Better offense beats great defense any day.
"It's hard to contain them. We all know that, the whole league knows that, our team knows that. But we have a game plan and we have to follow it and be true to it."
The Warriors got the better of the Cavaliers during the NBA Finals last season, beating them 4-2 to win their first NBA title in 40 years.
James, though, believes that things will be a lot different this time around as the Cavaliers are determined to avenge their heartbreaking loss in 2015.
"I think everybody knows a lot about (the Warriors)," James said. "It doesn't mean anything. You still gotta try to stop them, and that's a tall task. They're a well-oiled machine, obviously well coached and got so many great players on their team. So it's going to be very challenging for us, and we have to be ready for it."