Barcelona boss Luis Enrique puts full faith in returning neymar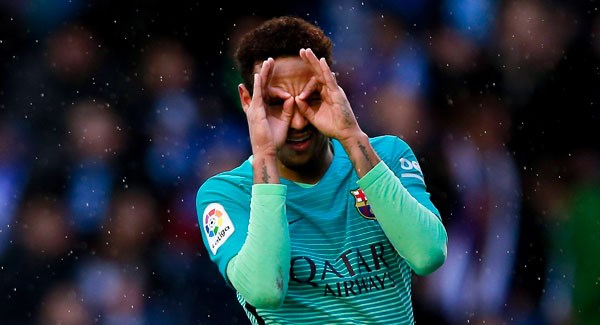 Barcelona boss Luis Enrique has backed the returning Neymar to boost his side's LaLiga title hopes ahead of Saturday's derby with Espanyol.
The Brazilian forward will return to the starting line-up after completing a three-match ban for two bookable offences against Malaga last month.
In his absence Enrique's side have returned to the top of the table with three straight wins including last weekend's thrilling late triumph over Real Madrid in El Clasico.
Enrique believes Neymar will revel in the atmosphere the Catalan derby presents, but fears he will continue to be targeted by opposition players due to his questionable temperament.
Enrique told reporters: "Neymar is a specialist at putting up with these kinds of situations.
"If there is a player who is on the floor (from a foul), it is Neymar. Yes, he has been sent off a few times, but he will be vital for us."
Despite his side's strong performances in recent weeks Enrique was not in the mood to elaborate on their title hopes, shrugging off questions relating to the two rivals' run-ins.
"I have no interest in talking about these things," added Enrique. "They have nothing to do with the game against Espanyol which is a derby and will be a match of maximum intensity."
Enrique has a major doubt over Andres Iniesta, who has not trained this week after picking up a knock.
Espanyol go into the game in ninth place but without a win in their last two matches after a midweek draw with Sporting Gijon.
But they have avoided being sucked into another relegation battle and coach Quique Sanchez Flores admits the pressure is off as his side look to spring an upset.
Flores told reporters: "We are all very focused and we are enjoying it right from the start. We have made the 50 points which for many years we had not achieved.
"We will treat them as we treat all teams. We will look at their players and not their moments – we will not change ourselves just because of who our opponents are.
"We have to be brave but of course it must be measured. Caution is important because if we make mistakes, then they are in a position to take advantage of it."