Riyad Mahrez in a 'very difficult situation' with Leicester teammates after trying to force transfer
Updated: February 2, 2018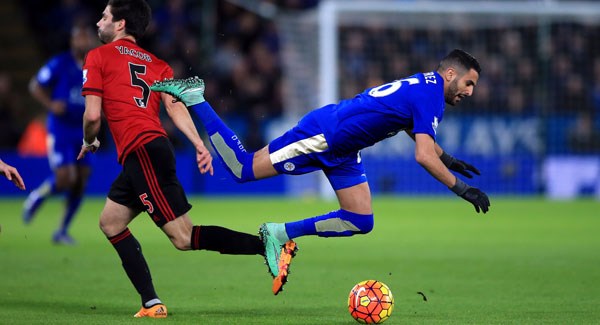 Riyad Mahrez's immediate future is unclear ahead of Leicester's Premier League home clash with Swansea after he failed to land a deadline day move.
Manchester City were willing to offer £50million plus a player they valued at £15million for the Algeria international.
But the Foxes ultimately asked for £80million cash which the Premier League leaders were not willing to pay.
Press Association Sport understands the winger missed training on Tuesday to try to force the switch and faces a battle to reintegrate himself at Leicester.
Some players are understood to be unhappy with how Mahrez has conducted himself and it is uncertain when he will play for the 2016 Premier League champions again.
A 'friend' of Mahrez told Sky Sports on Wednesday the 26-year-old felt down and upset at his treatment by the club.
He missed Wednesday's 2-1 defeat at Everton with boss Claude Puel hopeful of welcoming Mahrez back into the fold, but remained cautious.
"All the players, all the staff, will help him to come back with a smile, to enjoy his football with his team-mates because he is a great player, fantastic, a good man and he likes football," he said after the game.
"Of course, for the moment, I did not speak with Riyad, but perhaps there is a lot of disappointment.
"We will see when we can manage all this for the future."
Cliff Ginnetta, chairman of the Leicester City Supporters' Club, is confident Puel can restore calm and get the best out of Mahrez once again.
Ginnetta, who praised the club for sticking to its guns, said: "It must be very hard for him. People are saying that he's said things and he's probably not said any of those things and it's people putting two and two together and getting five.
"It's a very difficult situation for him and maybe it needs the manager to get his arm around him and people who know him the best to have a word with him and sit him down and sort things out with him.
"But they are a very tight-knit squad, so I don't think getting him back into the squad will be very difficult."
Mahrez asked to leave the Foxes last summer and his stance has not changed, although neither has the club's.
They do not want to lose him but should Mahrez, who signed a new four-year contract in 2016, leave it will be on their terms.
Leicester will hold out for what they believe is his market value with Philippe Coutinho moving to Barcelona from Liverpool for £142million and Virgil van Dyke going to Anfield for £75million in January.
Mahrez recently moved agents and is now with Coutinho's representative Kia Joorabchian.
He won the PFA Player of the Year and scored 18 goals when the Foxes clinched a shock Premier League title two seasons ago.