Subs come through for Warriors in Game 1 triumph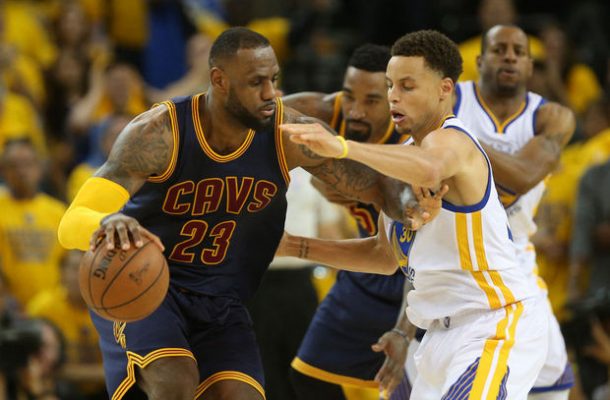 With Stephen Curry and Klay Thompson uncharacteristically off, Golden State's reserves pick up the slack in a big way
OAKLAND, Calif. — There are still a week's worth of games, perhaps, to determine the better team in this championship series rematch. One game in, all we know is who has the better battle cry.
The Warriors might want to trademark Strength In Numbers after Thursday night, when they issued a beatdown of the Cavs without much from their usual mayhem makers. Steph Curry didn't hit double figures in scoring until just under three minutes remained in Game 1, and after he swished the 3-pointer, he flung his mouthpiece to the floor in disgust, sending two arena employees to their hands and knees searching for it under the scorer's table. Klay Thompsonmade only four baskets, matching his Splash Brother, and somewhere in Midwest America, there are Oklahoma citizens cursing their timing.
This came as a double body blow to the Cavs, for not only did they lose 104-89 to the subs, they must be on high alert for Game 2, anticipating a vicious Klay-Curry comeback.
Well, about that term "subs." In theory, that's what Andre Iguodala and Shaun Livingston and Leandro Barbosa are. But in the case of the Warriors, it should be stripped of any and all demeaning intent. That's because the Warriors are deeper than the shots Curry makes. Such was proven last summer, when Iguodala was the Finals MVP, and most emphatically in the 2016 Finals opener, when the bench took over for Thompson and Curry and took up the slack.
"We've talked about our depth for the last two years," said Warriors coach Steve Kerr. "We rely on a lot of people. We play a lot of people, and we feel like we have talent on the bench that can come in and score when we need it. So it's a great sign that we can win in the Finals without those two guys having big games, but it's really not surprising to us. This has been our team the last couple of years."