This Liverpool supporter is so Reds-obsessed he named his daughter YNWA
Updated: January 20, 2018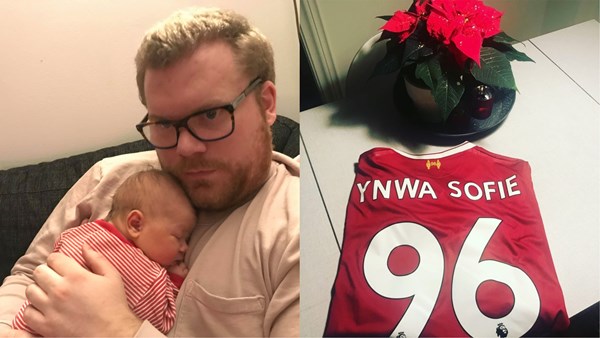 Many football fans show their support for a football club by purchasing a ticket to a game, but what can you do if you live in an entirely different country to the team you love?
Name your child after their most famous chant of course.
That's exactly what Kent Roger Solheim, 29, from Norway did when he got the chance to help name his newborn daughter. Welcome to the world Ynwa Sofie.
YNWA of course stands for You'll Never Walk Alone, a song that was originally a Broadway show tune, but has since been covered by many including Liverpool's own Gerry and the Pacemakers.
Borussia Dortmund and Celtic supporters sing the song during football matches, but it has been most famously adopted by Reds fans, who sing it loud and proud in the stands during games all over the world.
Kent and his girlfriend Carine decided to share the naming of their daughter, but it took a little bit of talking through.
"When we found out we were going to have a daughter we decided to pick one name each," said Kent. "So I picked Ynwa and my girlfriend picked Sofie, so Ynwa Sofie is her name.
"At first my girlfriend was happy about the name until I told her it was spelled with a 'W', then she understood the meaning of the name, so we discussed it a couple of times before we agreed on the name."
So Carine likes the name? "Yeah," said Kent. "She likes it."
Kent said he received his first Liverpool shirt at the tender age of just three months old, while Ynwa Sofie obviously already has a shirt of her own.
And while most of the people close to Kent are big fans of the Anfield-inspired name, there's one rather specific group who aren't so keen.
"Most of my friends and family think it's a wonderful name," said Kent. "Everyone thinks it's a fine name apart from my Manchester United-supporting friends. They think I'm crazy."
Perhaps Ynwa Sofie might have a few friends called Sir Alex and Stretford to play with in a few years' time.