Michael Carrick agrees to join Man United coaching staff after retirement
Updated: January 20, 2018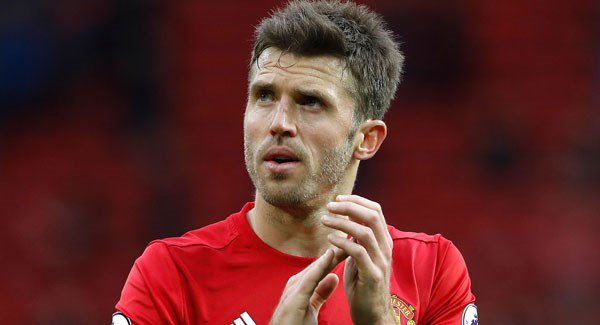 Michael Carrick has accepted Jose Mourinho's offer to join his first team coaching staff upon retirement, the Manchester United manager has revealed.
Midfielder Carrick has played just once this campaign, in a September Carabao Cup tie against Burton, and revealed in November that he had been diagnosed with an irregular heart rhythm following tests.
The 36-year-old had a procedure to correct that issue and is now back in training as he targets a return to the pitch in what is his 12th and likely final season as a United player.
Two months ago Mourinho admitted he wanted Carrick as part of his backroom team once he had hung up his boots and the midfielder has indicated a willingness to take up the position.
"When he wants (it), yes," Mourinho said.
However, the Portuguese does expect Carrick to feature for him in a playing capacity down the stretch.
"I think so. (He's had) a few months without even training so now he is in his second week of training with the team," Mourinho added.
"(He's a) very important player for us. I think the decision – to be (made) at the end of the season and not last week – is a good decision for the team and a good decision for him to finish playing football and not injured or with some problem.
"So we are all happy and in the end of the season I expect him to join, unless he changes his mind, but the club would be very happy for him to do that. I would be very happy also for him to do that."
Mourinho is not just thinking about the future but the present too as he bids to sign Arsenal's Alexis Sanchez during the January transfer window.
The United boss claimed on Friday he was "calmly waiting for news" on the negotiations having confirmed Henrikh Mkhitaryan would not play against Burnley on Saturday due to his role in the possible swap deal.
Were Sanchez to arrive at Old Trafford this month, it would be a rare example of Mourinho conducting major transfer business in the winter.
"The idea of the transfer market in mid-season, normally I say that is to help clubs that didn't work well in the summer," Mourinho said.
"I think that's for me the point of the January transfer window: to help the clubs that didn't work well in the summer and they feel they have to do something in January to help what they didn't do well before.
"It's because of that we don't like to do (transfers) in January because it shows that we didn't give our best, we didn't try our best and we don't like to do it.
"But if you have the chance to do (something for) some special players, some player in special circumstances, some player that you (try to) do in the summer and you have the chance to do it now, that's a special situation and you try to do it."