FOX announces UFC 218 replay on Christmas Eve
Updated: December 19, 2017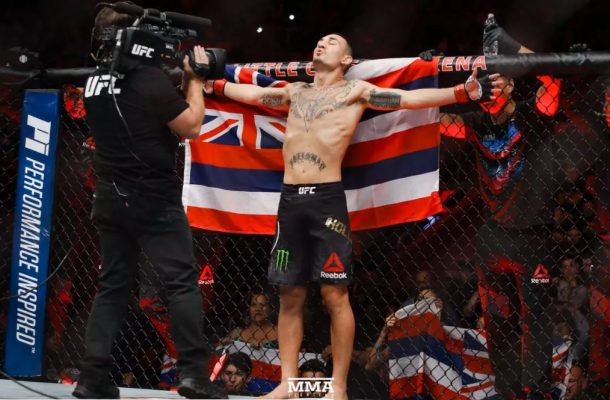 After doing the second-biggest UFC numbers ever on the network last year, FOX confirmed the UFC is getting another Christmas Eve special.
The concept is similar to last year when the UFC ran the UFC 206 pay-per-view show, one of the most exciting shows of the year on FOX a few weeks after it took place.
The UFC was able to make a deal with its pay-per-view providers to allow a television broadcast of UFC 218, the Dec. 2 show of Detroit, which will air on FOX on Dec 24, a Sunday night, from 10 p.m. to 11:30 p.m. Normally, there is a 30-day window for UFC after the pay-per-view is live before it can air on television.
At one point, there was talk of airing UFC 217, the Madison Square Garden show, with Georges St-Pierre's win over Michael Bisping, in that time slot, because of the 30-day window.
It is not clear what fights will be airing due to the time restriction. The main event on that show was Max Holloway's featherweight title defense against Jose Aldo. It is likely the Francis Ngannou win over Alistair Overeem and the Eddie Alvarez win over Justin Gaethjewould be on the show. That show also featured a Yancy Medeiros vs. Alex Oliveira fight that was one of the best bouts of 2017, but with a 90-minute window, that may not be able to air.
Ngannou vs. Overeem would be a must-broadcast because of the incredible knockout that builds directly to Ngannou's challenge to Stipe Miocic for the UFC heavyweight title on pay-per-view on Jan. 20 in Boston.
Last year, partially due to the lead-in of a highly rated NFL game, a replay of UFC 206, a show that included Holloway vs. Anthony Pettis and a memorable Doo Ho Choi vs. Cub Swanson fight did 4,720,000 viewers, the second-biggest number for a UFC event ever on FOX. It was the most-watched event of the night on prime time network television, doing double the males 18-34 and 18-49 of anything else on the broadcast networks. The UFC's all-time record audience on FOX is 5.7 million viewers for a 2011 event headlined by Junior Dos Santos vs. Cain Velasquez, its first live network event,.
This year's show would not be expected to do anything close to those numbers, because it won't follow an NFL broadcast and it will air at 10 p.m.