Tyson Nam talks upset victories, UFC dream, and nearly fighting Demetrious Johnson
Updated: October 23, 2017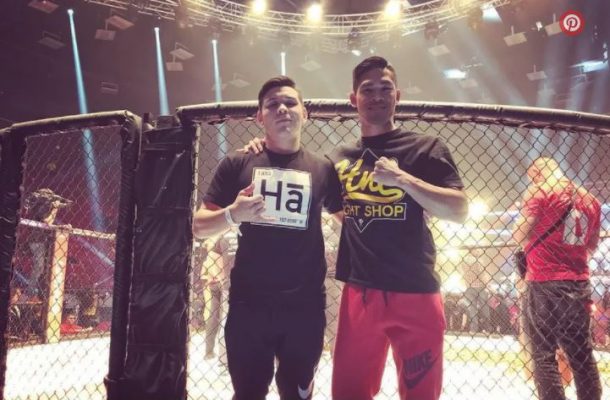 Maybe Tyson Nam's nickname should be "The Spoiler".
It would be fitting, given his history of walking into hostile territory and defeating heavily favored opposition in impressive fashion. The 34-year-old was happy to break hearts again at a Fight Nights Global show in St. Petersburg, Russia on Oct. 6, when he faced Rizvan Abuev, a fast-rising prospect competing in front of a crowd full of his countrymen.
Abuev had won nine straight heading into his bout with Nam, but that streak went up in smoke when Nam blasted Abuev with an overhand shot that left him limp on the canvas:
For anyone familiar with Nam's career, this was nothing new. His modest 16-8-1 record doesn't begin to tell the whole story of a fighter who has not only competed with the best of the best, but on two notable occasions has left them utterly devastated.
The first is the one that put Nam on the map, an August 2012 upset victory that he still finds himself discussing with fans to this day.
Eduardo Dantas was fresh off of his first Bellator title win, a submission victory over Zach Makovsky that had the then 23-year-old Brazilian poised to be the next big thing at 135 pounds. Bellator allowed Dantas to take a non-title fight in his home country outside of their promotion, due to the fact that it would be the main event of a charity show in Rio de Janeiro and that it was against the unheralded Nam. Officials figured it would be a showcase for their young star.
What happened next was a disaster for Dantas and a career-making moment for Nam. For the first 90 seconds of the encounter, "Dudu" performed like a champion, looking loose, explosive, and confident. However, his aggression got the best of him, and he charged right into a short counter-right from Nam that left him out cold.
"That was my very first win that brought me some notable recognition," Nam told MMA Fighting. "I think he was, like, No. 6 in the world at the time, he was just running through everybody that they put in front of him in Bellator and then I just knocked his ass out."
Five years later, and in a division 10 pounds lighter, Nam again found himself being set up as a stepping stone, this time against one-time UFC title challenger Ali Bagautinov in the headlining bout of a Fight Nights Global show in Moscow this past April. The Russian fighter was a consensus top-10 flyweight and he'd gone five rounds with Demetrious Johnson, so Nam wasn't expected to be much of a challenge.
Three rounds into that contest, Nam silenced the doubters again with a buzzer-beating head kick KO:
"Against Bagautinov, I was definitely brought in to be a sacrificial lamb," said Nam. "I've definitely seen a little bit of a change in the crowd this last time when I went to St. Petersburg. I thought I heard a few more cheers than boos. I'm entertaining these people, so I think that they're starting to enjoy it even though I'm not of Russian descent.
"I always bring it, I'm always gonna be a fighter that's going to bring some excitement whenever I step up into the cage, the ring. So I think they're starting to come around. They're starting to like me."
As nice as it is to have those scalps in his collection, there's another that eluded Nam long ago that would have been a nice win at the time, and only grown in legend as the years passed.
Being based out of Portland for a large chunk of his career (he has since relocated to the Hawaii Elite MMA gym in his home state), Nam is no stranger to the talent in Oregon and neighboring Washington. Arguably the most notable product of the Pacific Northwest region is Johnson, the flyweight king who just broke the record for consecutive UFC title defenses this past weekend and is considered by many to be at the top of the pound-for-pound rankings.
According to Nam, he and Johnson were supposed to fight at a small show back in "2010 or 2011" when they were both in the nascent stages of their career and it's "Mighty Mouse" who didn't want any part of the proposed match.
"I think about that all the time. He's from Seattle and I was living up in Portland for a little while and we were supposed to have fought at one point, but I want to say he chickened out," Nam said with a laugh. "Demetrious couldn't finish Ali, I finished Ali. And I think that if I had the opportunity to fight DJ, it might be different than what every other flyweight has been bringing to him."
Nam has two fights left on his Fight Nights Global contract, and while he's excited to continue his winning ways with the promotion, he admitted that getting that elusive Octagon opportunity is still a goal he'd like to check off of his list.
The world's leading MMA promotion tried to sign Nam in 2012 after he defeated Dantas, but Nam became embroiled in a contract dispute with then-Bellator president Bjorn Rebney (who had previously cut him, but retained the right to re-sign him within a certain window) that eventually led to Nam signing with World Series of Fighting once the dust had settled.
Nam describes the negotiations with Bellator as having left a "bad taste" in his mouth and even though the promotion has since moved on to be helmed by Scott Coker, the UFC is the only major U.S. organization Nam is interested in.
"I'm pretty sure that every fighter that gets into mixed martial arts always has the goal of fighting at least one fight in the UFC to put on top of their resume," said Nam. "They are like the Super Bowl of MMA. Right now I'm happy up in Russia, they're starting to come around, they're treating us pretty nicely, but by the end when I'm done with this sport I would like to have one fight in the UFC. That would definitely be a goal of mine."
When he fought Bagautinov, Nam had to endure a 40-hour flight just so he could step in the cage with an elite opponent, and he dreams of seeing a big show come to the islands someday. UFC featherweight champion Max Holloway has campaigned for the Octagon to make the trip to Hawaii, and if the timing is right, Nam would do anything in his power to be booked on that show.
"No doubt. Pretty much every single Hawaiian over here would give their right leg to fight in the UFC held here in Hawaii with the champion Max in the headliner," said Nam. "That would definitely be a great event. We've got a beautiful place here in Hawaii and no better place to punch each other in the face than in paradise."